Whole-Wheat Pita Bread
Why This Recipe Works
Our recipe creates tender, chewy pitas with perfect pockets, every time. We start with a 50/50 combination of high-protein bread flour, which encourages pocket formation and increases the pita's chew, and whole-wheat flour, which contributes nutty flavor. A high hydration level and a generous amount of oil help keep the pita tender, and honey adds a touch of sweetness. After quickly making the dough in the stand mixer, we shape it into balls and let it proof overnight in the refrigerator to develop complex flavor. We then roll the dough balls into thin, even disks before baking them on a hot baking stone placed on the lowest oven rack, which ensures that they puff up quickly and fully.
| | |
| --- | --- |
| 1⅓ | cups (7⅓ ounces) King Arthur bread flour |
| | |
| --- | --- |
| 2¼ | teaspoons instant or rapid-rise yeast |
| | |
| --- | --- |
| 1 | cup plus 2 tablespoons (9 ounces) ice water |
NUTRITIONAL INFORMATION
Per Serving (Serves 8)
Calories

235

Cholesterol

0g

Fat

8 g

Sodium

197 mg

Saturated

1 g

Carbs

34 g

Trans

0 g

Dietary Fiber

2 g

Monounsaturated

5 g

Sugar

3 g

Polyunsaturated

1 g

Protein

5 g
The information shown is Edamam's estimate based on available ingredients and preparation. It should not be considered a substitute for a professional nutritionist's advice.
Featured Equipment
Instructions
Makes eight 7-inch pita breads
For the best results, we recommend weighing the flour and water. We prefer King Arthur bread flour for this recipe. If you don't have a baking stone, bake the pitas on an overturned and preheated rimmed baking sheet. The pitas are best eaten within 24 hours of baking. Reheat leftover pitas by wrapping them in aluminum foil, placing them in a cold oven, setting the temperature to 300 degrees, and baking for 15 to 20 minutes.
1. Sift whole-wheat flour through fine-mesh strainer into bowl of stand mixer; discard bran remaining in strainer. Whisk bread flour and yeast into whole-wheat flour. Add ice water, oil, and honey on top of flour mixture. Fit stand mixer with dough hook and mix on low speed until all flour is moistened, 1 to 2 minutes. Let dough stand for 10 minutes.
2. Add salt to dough and mix on medium speed until dough forms satiny, sticky ball that clears sides of bowl, 6 to 8 minutes. Transfer dough to lightly oiled counter and knead until smooth, about 1 minute. Divide dough into 8 equal pieces (about 3⅜ ounces each). Shape dough pieces into tight, smooth balls and transfer, seam side down, to rimmed baking sheet coated with oil spray. Spray tops of balls lightly with oil spray, then cover tightly with plastic wrap and refrigerate for at least 16 hours or up to 24 hours.
3. One hour before baking pitas, adjust oven rack to lowest position, set baking stone on rack, and heat oven to 425 degrees.
4. Remove dough from refrigerator. Coat 1 dough ball generously on both sides with flour and place on well-floured counter, seam side down. Use heel of your hand to press dough ball into 5-inch circle. Using rolling pin, gently roll into 7-inch circle, adding flour as necessary to prevent sticking. Roll slowly and gently to prevent any creasing. Repeat with second dough ball. Brush both sides of each dough round with pastry brush to remove any excess flour. Transfer dough rounds to unfloured peel, making sure side that was facing up when you began rolling is faceup again.
5. Slide both dough rounds carefully onto stone and bake until evenly inflated and lightly browned on undersides, 1 to 3 minutes. Using peel, slide pitas off stone and, using your hands or spatula, gently invert. (If pitas do not puff after 3 minutes, flip immediately to prevent overcooking.) Return pitas to stone and bake until lightly browned in center of second side, 1 minute. Transfer pitas to wire rack to cool, covering loosely with clean dish towel. Repeat shaping and baking with remaining 6 pitas in 3 batches. Let pitas cool for 10 minutes before serving.
Step by Step: How to Shape Pitas That Reliably Form Pockets
Shaping the dough into smooth, taut balls and rolling the proofed balls into even disks are the keys to pitas that reliably puff in the oven.
Before Proofing
Working in a circle, pull the edges of the dough into the center, forming a ball.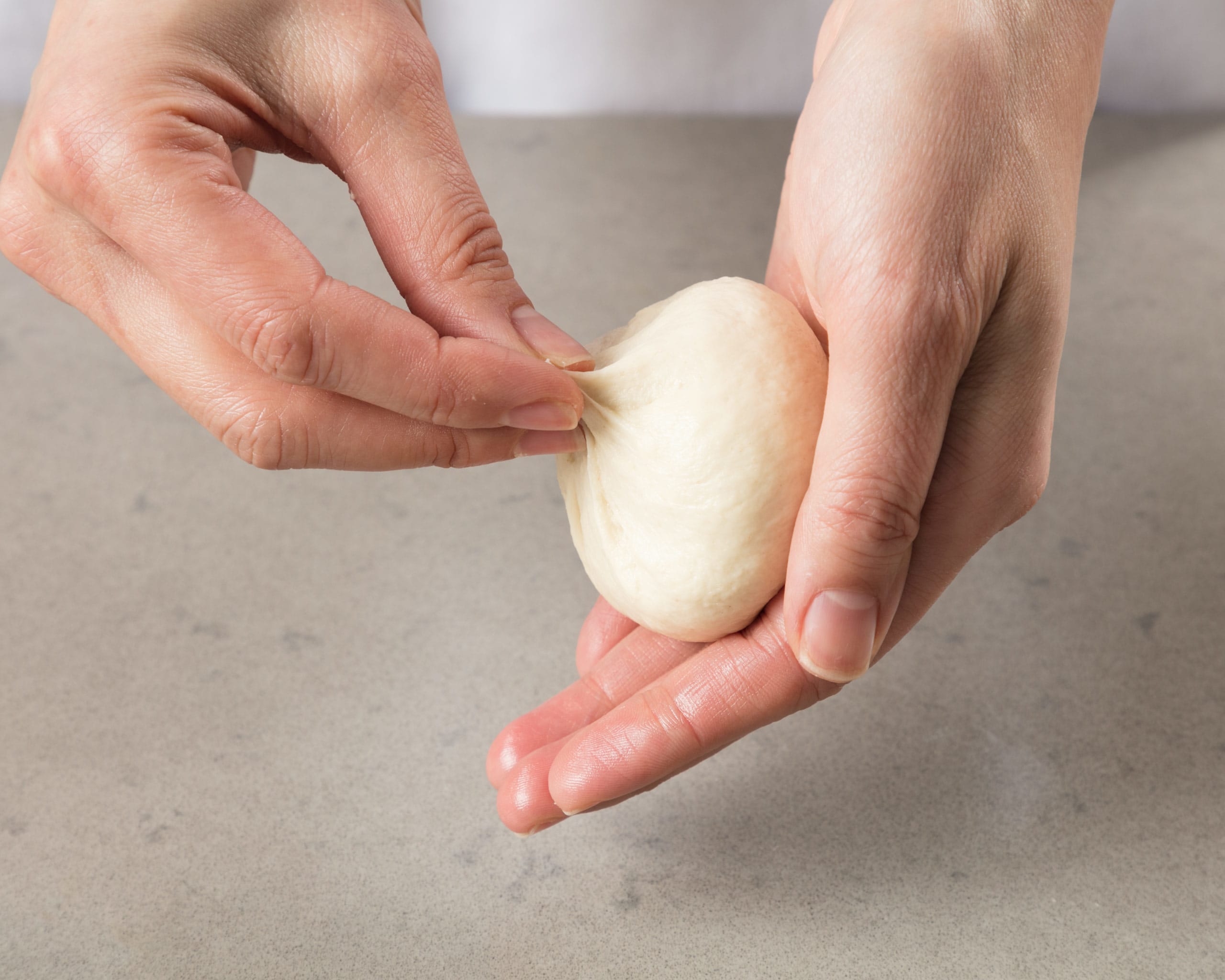 Holding the ball in your hand, pinch the seams together to seal, creating a taut surface.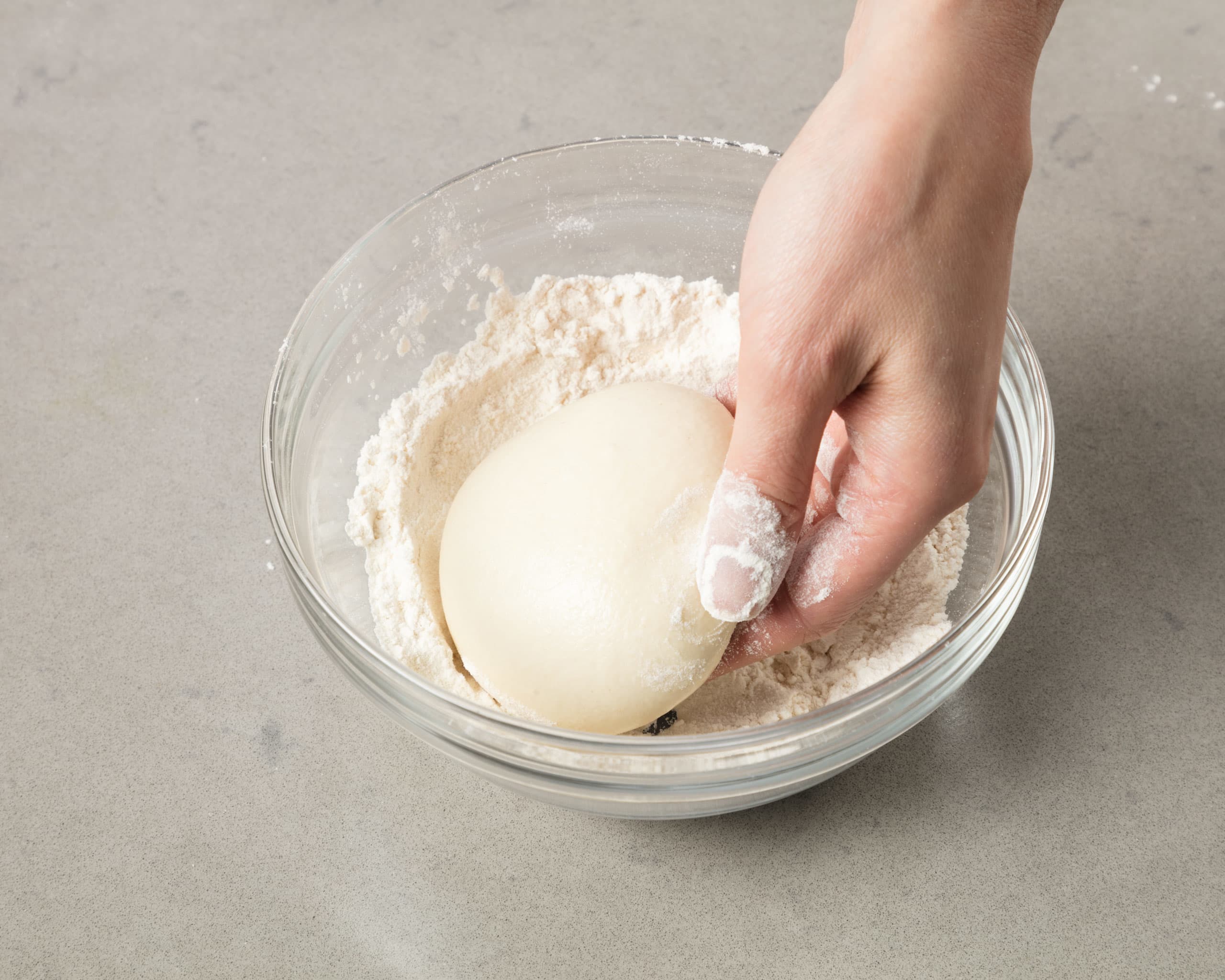 After Proofing
To ensure that the dough is thoroughly coated in flour before it even hits the counter to be rolled out, we add flour to a bowl and turn each dough ball in it, brushing the excess right back into the bowl.
Use the heel of your hand to press the thoroughly floured dough ball into a 5-inch circle.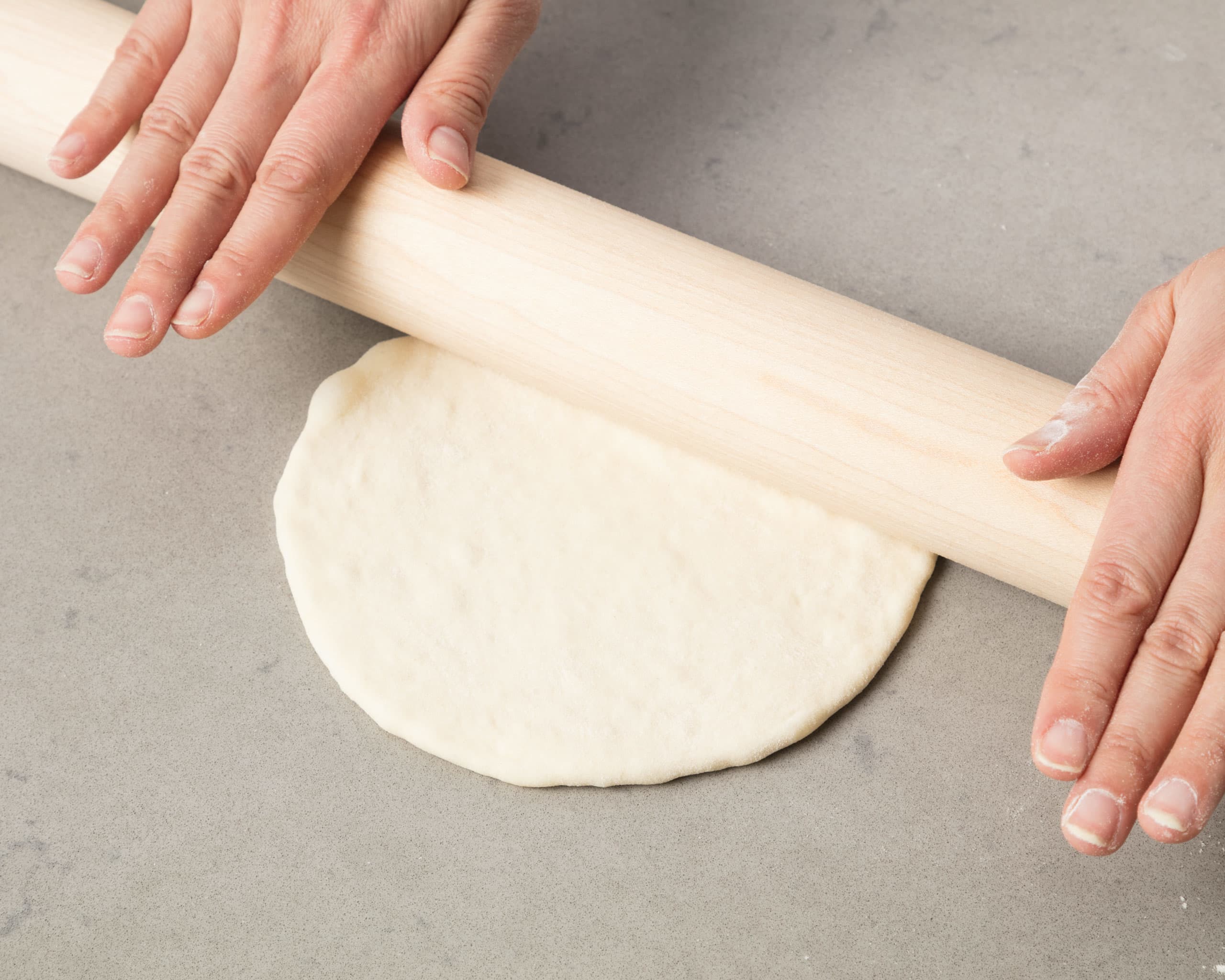 Roll the dough into a 7-inch disk. Roll slowly and gently to prevent any creasing.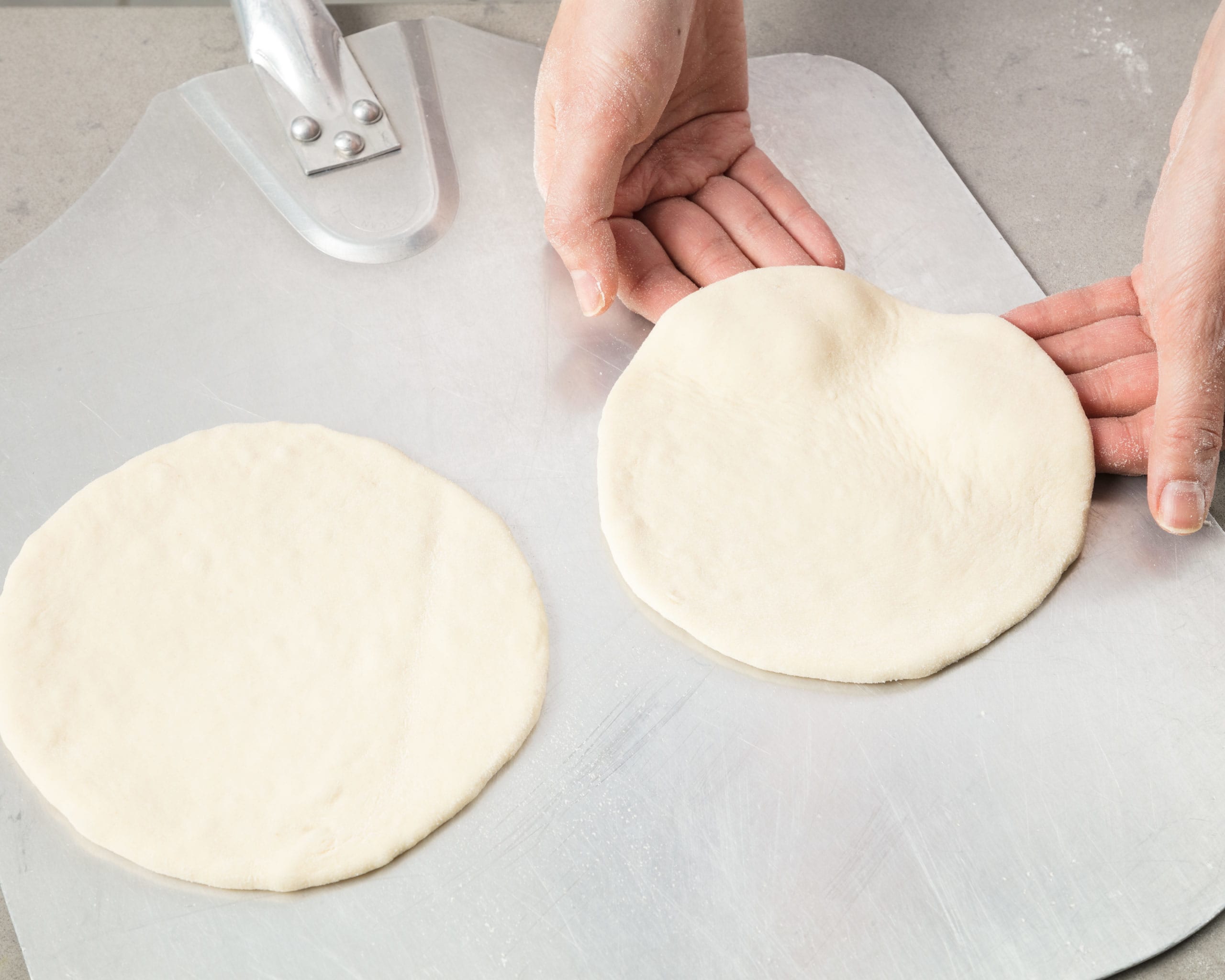 Before baking, make sure the side that was facing up when you began rolling is faceup again—this helps with puffing.